East Cheshire Hospice
JBGass support East Cheshire Hospice through their annual Will Week, which has raised over £20,000 in the last two years. The firm provides Wills to clients at no cost during the week; clients are given the opportunity to make a donation to the Hospice.
East Cheshire Hospice provides special care for adults suffering from life-limiting illnesses for which there is no cure. The Hospice cares for the whole person, aiming to meet all their needs, whether they are medical, emotional or spiritual or around the challenges of daily-living. They also support families and carers throughout what is often a difficult period.
Their mission is to make every day count for our patients and those important to them.
A registered charity, all The Hospice's services are completely free of charge to all patients. However, the hospice receives less than 23% of our annual costs from government and so has to fundraise almost £6,000 every single day of the year simply to maintain its current service.
Fiona Beasley, Major Relationships Manager at East Cheshire Hospice said: "JBGass did wonderful work for the Hospice during Will Week last year and we are grateful to them for agreeing to support this year's campaign."
For more information see www.eastcheshirehospice.org.uk
---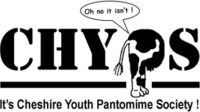 Cheshire Youth Pantomime Society (

CHYPS

)
JBGass support CHYPS' annual performance at The Woodford Centre through sponsorship of their souvenir programme.
CHYPS was formed in 2008 and their pantos are especially written to appeal to teenagers with large casts and great music. The shows are professionally staged with live music from a teenage band led by their Musical Director. CHYPS combines lots of fun, with hard work and the satisfaction of being part of shows that are a delight to watch.
CHYPS is non-profit making, relying on support from parents, schools, grants, local businesses and the skills and energy of individual helpers.
Ian Hunt, Chairman, CHYPS, said "We are extremely grateful to JBGass, and other local businesses for their support. Without it, CHYPS would not be able to provide local teenagers with an unforgettable experience that not only develops their artistic skills but also does wonders for their self-confidence and self-esteem. It also helps CHYPS provide a thoroughly entertaining, high quality, and low cost, traditional pantomime for over 800 local people each year."
For more information see www.chypspanto.com